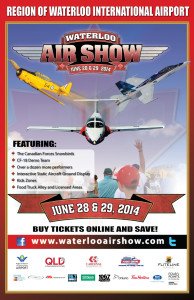 For the 5th year in a row – Dillusions Digital Media is a proud sponsor and provider of design services for the Waterloo Air Show, including advertising, tickets, poster and show calendar.
Mark your calendar for June 28th and 29th to see the Canadian Snowbirds, CF-18, Harvards, Static aircraft and much, much more.
Visit www.waterlooairshow.com for advanced tickets. A great day for the family!
This entry was posted on Friday, June 13th, 2014 at 1:25 am
You can follow any responses to this entry through the RSS 2.0 feed.
Posted in: Uncategorized